Torna 90° minuto per quella che sarà – probabilmente – la sua ultima stagione. E già al pensiero mi cale un profondo torpore, pensando come dalla prossima tornata calcistica dieci partite saranno spalmate in sette orari diversi, cosa che avviene (e non di rado) nei periodi novembrini. Qualcuno poteva pensare tutto ciò ai tempi di Paolo Valenti, ma anche nel periodo di Gian Piero Galeazzi e Fabrizio Maffei? Sequenze di un calcio che non c'è più, dove la tv da sfruttata è diventata assoluta padrona del pallone, imponendo gusti, orari e sforzi mentali, come nel caso dei posticipi del lunedì alle 19 tra squadre che lottano per la salvezza: chi è il genio che ha partorito ciò? Invito il pubblico, cortesemente, a guardare i dati d'ascolto di alcune gare trasmesse da Sky e Mediaset Premium: qualche anno fa, Bologna-Carpi (finita 0-0, se memoria non inganna) ha avuto davanti ai teleschermi la bellezza di 51 (cinquantuno) telespettatori, in pratica neanche i parenti dei tesserati.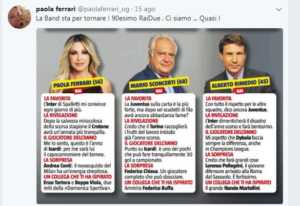 Dopo il necessario sfogo, registriamo come almeno quest'anno è stata confermata tutta la batteria di conduzione, ovvero Paola Ferrari, Alberto Rimedio e Mario Sconcerti. Non succedeva da quando la Ferrari era in studio con Giorgio Tosatti e Carlo Longhi. Ovvero tredici anni fa, quando poi 90° minuto scomparve, immolato sui diritti Mediaset. Gira che rigira, siamo sempre vicini alla fine. Curiosi sono stati i pronostici dati alla rivista Telepiù, Paola Ferrari prospetta una salvezza tranquilla del Crotone, Mario Sconcerti e Alberto Rimedio equilibrano le previsioni forse più per far contenti tutti.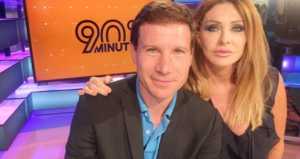 Studio rinnovato con blocchi di Tetris azzurro intenso e grafiche arancioni, sullo stile già sperimentato da Rai Sport in altri programmi. È cambiata ancora la sigla, è cambiato il logo stilizzato sul modello dell'Olanda 1974. Da notare come Paola Ferrari sia sempre innamorata di Marco Borriello, Mario Sconcerti definisce migliore Paulo Dybala rispetto a Neymar e di come Alberto Rimedio quando fa una domanda più cattiva sembra subito pentirsene.
Passiamo ora agli inviati di giornata, quelli che – a meno di un rapimento degli alieni in diretta – non andranno mai sulle cronache del giorno dopo, come si faceva un tempo con i vari Marcello Giannini e Tonino Carino. Anche qui potremmo stare dei secoli a parlare delle differenze, ma è difficile andare a scoprire tic e vizi degli odierni inviati.
Agli anticipi Cristiano Piccinelli per Juventus-Chievo 3-0 e Dario Di Gennaro – non annunciato – sul rinvio di Sampdoria-Roma. Ancora nella "Zona mista" ecco Luca Cardinalini tornato nei campi più assurdi d'Italia. Stavolta è a Pinerolo, con la squadra di casa che perde sia contro l'Atletico Torino (corredata da gesto di fair play del mister Pino Di Leone sul segnalare una squalifica altrui) nonché contro un Rocchetta e qualcosa.
Partiti con il vero 90° minuto, la miscellanea dei gol ha come sottofondo The sound of now dei Zenit, scelta quantomeno sufficiente. Parte il carnet degli inviati da Gianni Bezzi per Cagliari-Crotone 1-0 e complimenti per la sala stampa del "Sardegna Arena", nonché a chi ha fatto precedentemente le interviste. Poi Federico Calcagno per Atalanta-Sassuolo 2-1, un fin troppo calmo Franco Lauro in Udinese-Genoa 1-0, un mai comparso Giacomo Capuano per Verona-Fiorentina 0-5. Al posticipo tocca, e toccherà probabilmente per il futuro, a Francesco Rocchi, che non avrà la bellezza di Simona Rolandi, ma ha di certo molto più talento nel mestiere, lo dimostra parlando di Bologna-Napoli senza ammiccare alla telecamera. Paolo Paganini nel commento di Inter-Spal 2-0, Gianni Cerqueti infine per Lazio-Milan 4-1, nel servizio minimale con i gol e poco più.
La trasmissione termina alle 18.50, attendendo Antidoping di Alessandro Antinelli almeno l'abbiamo portata a casa.
Massimo Maneggio
 Per rivedere 90° minuto del 10 settembre 2017
http://www.raisport.rai.it/dl/raiSport/media/90176-Minuto-59f5cd4e-d37f-4c49-a2d4-9a28caa38a7e.html